As early as in 1937, when they were still living in Canada, Eugenia and Hans Jütting established a charitable foundation based originally in Switzerland. The war and post-war period prevented the aims of the Foundation from being realised straight away, but highlighted the importance of ideas which unite people, such as music. In the 1980s, the Foundation provided support for Krakow Music Academy and the University of Göttingen. The first piano and violin competitions for young people were held in Krakow in 1987, followed in 1992 by another competition in Detmold, Westphalia.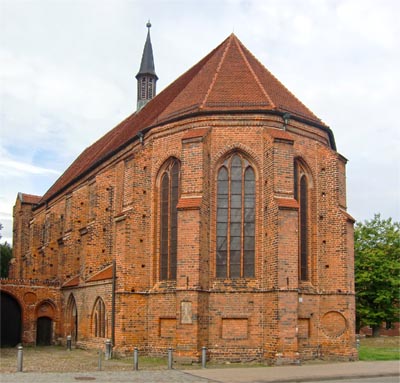 Bild: Das Stendaler Musikforum Katharinenkirche.
Hans Jütting assisted the Johanniter hospital in his old home town of Stendal, popular medical provision being a cause close to his heart. From the mid-eighties, the Jüttings focused their attention on St. Catherine's Church in Stendal. Years were to pass before it could be reopened as a music forum for the town, years which demanded unflagging determination on the part of Hans Jütting, especially in his dealings with the GDR authorities.
From 1990, the Foundation conducted its affairs in Baden-Baden, temporarily assuming the legal form of a society. Dissatisfaction with its management prompted the two founders to amend its legal constitution and to move its headquarters; in 1994 the Foundation was registered as the "Hans und Eugenia Jütting-Stiftung" with its head office in Stendal. By acting in this way, the founders wished to ensure that the income from the Foundation's capital would be used exclusively to meet its aims.
St. Catherine's Church and the neighbouring buildings of the Altmärkisches Museum continue to receive support from the Foundation: between 1997 and 1999, an interest-free loan made urgent renovation and rebuilding work possible. On 15th February 1998 the Jütting Foundation celebrated its 60th birthday. In July 1999 a new, completely revised constitution came into force, giving concrete substance to the aims of the Foundation. In terms of organisation and personnel, the Foundation is now on a firm footing.