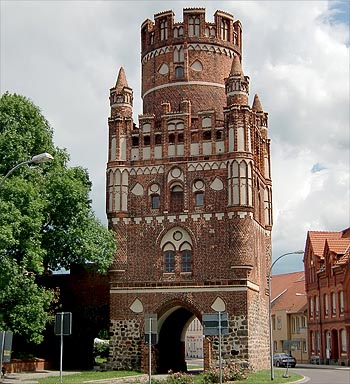 Bild: Das mitteralterliche Uenglinger Stadttor.
Stendal was founded in 1160 by "Albrecht der Bär", the Margrave of Brandenburg, and developed into a flourishing community during the Middle Ages, spurred on by its bustling trade and membership of the Hanseatic League. Many historical buildings in the Old Town still bear witness to the glorious history of Stendal and the "Old March" in which it is set. The impressive cluster of buildings in the market place, with the town hall, St. Mary's town hall church and the impressive figure of Roland in front of the old court summerhouse, the two imposing town gates which still survive, St. Nicholas Cathedral, with its exquisite restored stained-glass windows, and St. Catherine's convent church, with its present function as an atmospheric music forum, are all excellent examples of North German brick Gothic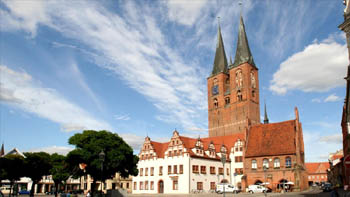 Bild: Markt mit Ensemble des Rathauses und der Stadt- und Bügerkirche St. Marien.
Close to the Altmärkisches Museum of Regional History, which exhibits its artefacts in the old convent buildings, is the Winckelmann Museum, which tells in permanent and special thematic exhibitions of the life, work and influence of Johann Joachim Winckelmann, son of a Stendal shoemaker, who was to gain international respect as the founder of classical aesthetics. Today, Stendal has a population of about 40,000, and is both a historical and a modern town, the regional centre of the Altmark. An attractive place to live and work, it is easily accessible, situated on the high-speed line between Berlin and Hanover, which are both about an hour away.