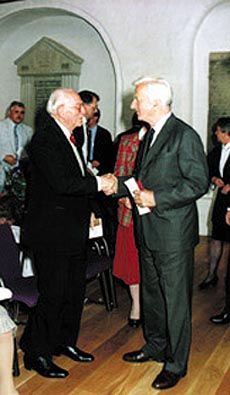 Bild:
Ehrung bügerschaftlichen Engagements durch den Bundespräsidenten
Richard von Weizsäcker.
Eugenia and Hans Jütting established their Foundation to highlight the responsibility of private initiative in meeting the needs of society. They deliberately took their lead from the traditions of Britain and America, where university foundations play an important role. There, scholarships are given to young students of excellence, cultural life is promoted in centres of further education and the academic quality of teaching is advanced through the endowment of professorial chairs. It is a great honour to receive a scholarship from a foundation, but it also puts one under an obligation; the students who receive scholarships maintain their links with the university as alumni, and make their own contribution to the education of subsequent generations.
For the Jüttings, promoting this spirit in German society was a major incentive behind the creation of their Foundation.
According to its constitution, the purpose of the Jütting Foundation is "to promote music, science and education". Another aim is "reconciliation and international understanding between Germany and Poland". The Foundation's principal means of achieving its constitutional aims is through its schedule of scholarships.