The lives of founders Hans Jütting and his wife Eugenia mirror that of the turbulent 20th century; Hans Jütting left his home in Stendal in 1930 for Canada, completed his studies, and quickly rose and prospered in his profession. In 1933 he married the pianist Eugenia Czerny, who came from an artistic Polish family with a long musical tradition. Hans Jütting graduated in political economy from the prestigious McGill University in Montreal, Canada, where he subsequently worked in financial administration. He later rose to the rank of head of finance with the Ford Motor Company, a position which enabled him to travel the world.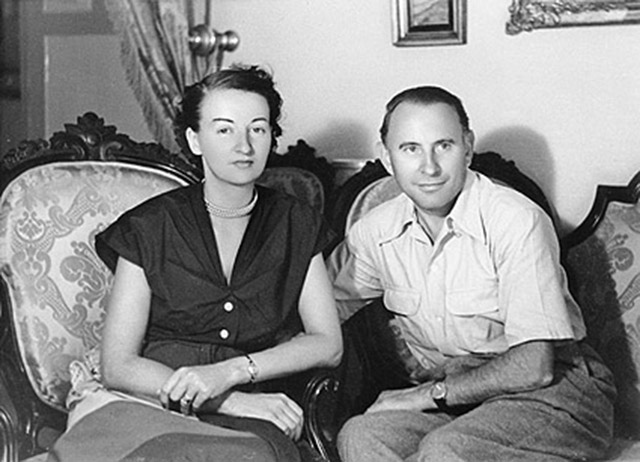 Now resident in the USA, the couple regularly visited Hans Jüttings former home town, even in GDR times, and were shocked to witness the dilapidation of the historic Old Town. After a long period of negotiation, the GDR government finally agreed to accept a donation to renovate St. Catherine's convent church in 1985, just in time to prevent it from falling into total disrepair. In the years after reunification, the Jüttings made further visits to Stendal, where their dreams of finding a new use and purpose for St. Catherine's, and of helping young, talented people to gain qualifications, were warmly received.

On 28th May 1994, their plans finally came to fruition when Federal President Richard von Weizsäcker attended the festive inauguration of the town's impressive music forum in the once ruined church. The town of Stendal showed its appreciation for such civic commitment by granting honorary citizenship to Eugenia and Hans Jütting on 7th May 1995.

In December 1996 the couple, now advanced in years, decided to move house once again; they left sunny Florida for winter in Stendal so that, as Hans Jütting put it, they "could be together with their friends". Hans Jütting in particular devoted all his energy to building up the Foundation. Thanks to the efforts of this man and the committees which worked alongside him in an honorary capacity, much progress was made on improving St. Catherine's Church and the affairs of the Foundation. By the time Hans Jütting died on 22nd September 1999 – his 90th birthday – the Hans and Eugenia Jütting Foundation was firmly established. Eugenia Jütting returned to the USA, where she could be with her family. On 6th December 2004 Eugenia Juetting died at the age of 97 years.
Seitenanfang